Have you been reading lately? Over the summer I didn't read as much as I'd anticipated. I'd thought that days at the pool & vacation would equal to hours on end of reading. Not so much, because when you're at the pool with friends you chat and when you're on a vacation that isn't so much of a relaxing vacation as it is a "visiting & doing" vacation, there's just not a lot of time for reading.
The past couple of weeks though I've been trying hard to carve out time each day to read a bit. I just started reading book 10 out of my #14booksin2014 goal. Things are busy this month and next so I'm trying for 4 books in the 2 months, because I just don't think there'll be time for more. 4 is better than none though, right?
My first choice is If I Stay. Brookelyn already started & finished (she's anxious to see the movie) this book and I just started it a few days ago. So far, so good. Have you read If I Stay? Have you seen the movie? What did you think?
My other three choices are books that have been on my "to read" list for months. You might recognize all of them from previous #14booksin2014 posts. I'm hopeful this month. And this goal that I created for myself back in January has made quite an impact on my daily life. Often times I reward myself throughout the day with a few minutes of reading. It's great for keeping me motivated to get things done around the house and to complete projects. And, I just feel better when I've taken a few minutes for me with my nose in a book.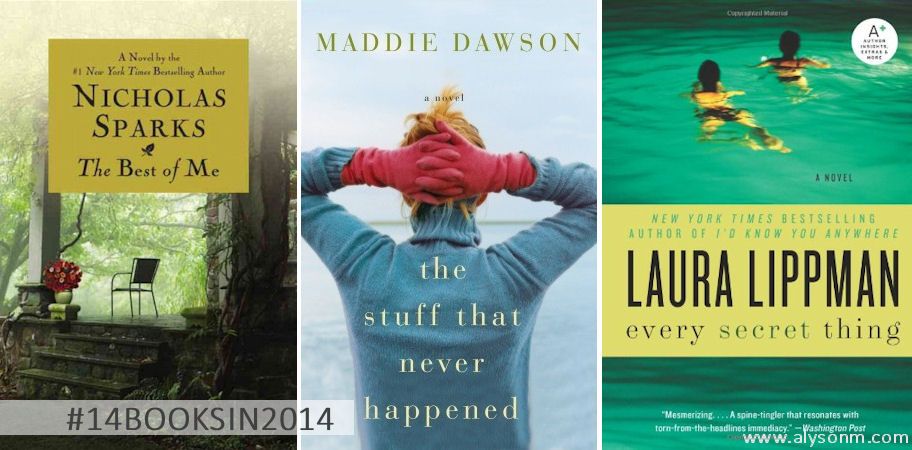 If you're looking for a new book to read, you can check out my previous posts. I'll leave the links for each months post below.
What are you reading? What books have you read lately that you really loved?